Car & Limo Service for Newark Penn Station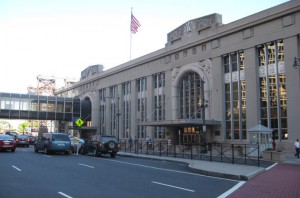 Newark Penn Station sees over 600,000 commuters annually. You've already fought the crowd just being there; why deal with the traffic afterwards? Let Hamilton's Limo and Car Service pick you up! We will ensure you travel in luxury and comfort with our professional car and limo services for Newark Penn Station commuters and visitors. Leave the stress of traveling behind. Call us whether you are headed to or from one of New Jersey's main intercity stations, and our professional drivers will take care of the rest.
Newark Penn Station is the 14th busiest Amtrak station; but if you frequent this area, you don't need us to tell you that. When you have to travel to or from this location, do you dread dealing with the traffic, parking, or getting a cab? Why settle for misery when luxury is now affordable? That's right – AFFORDABLE.
At Hamilton's Limo and Car Service we make reserving car and limo services in NJ affordable and easy. Give us a call today or fill out our online reservation form to see just how affordable our pricing is with a rate quote. You'll be so glad you did.
Newark Penn Station Limo Service
Our Penn Station limo service is available 24/7 all year long, even on the holidays. So whenever you need a reliable driver to take you wherever you're going in and around New Jersey, remember to call Hamilton's Limo and Car Service. We are always here for you.
Taking a limo can turn any event into a memorable one. If you have a big day planned, let Hamilton's Limo and Car Service make your special occasion that much nicer with our professional NJ limo service. We will get you and your party where you're headed – whether it's to, from, or around Penn Station – safely, so you can relax and focus on enjoying your event. You'll never have to worry about being late because of our chauffeurs, either. We make certain to schedule adequate time between reservations and always arrive on time. You will love our selection of limousines, too.
Car Service to/from Newark Penn Station
At Hamilton's Car and Limo Service, we take just as much care when it comes to our car service. Travel in style with our luxury sedans and SUVs, complete with your own personal chauffeur. Our drivers are licensed professionals that are carefully selected for the job. You can take comfort knowing the driver we send to take care of your transportation needs around Newark Penn Station will be local to the area, too. So traffic patterns, optimum routes to take, and the ability to adapt to whatever they city's roads throw at them just comes natural. After all, we don't just hire drivers – we hire professional chauffeurs. Reserve our Newark Penn Station car service today to see for yourself just how different of a travelling experience you can have with our pros.
When you call our car company in Newark, NJ, you'll get:
Flat rate pricing
No surprise fees or surcharges
A professional, local chauffeur
A clean, luxury vehicle
Prompt, on time service
Satisfaction, guaranteed
Make traveling enjoyable again. Let Hamilton's Car and Limo Service take care of your transportation needs whenever you're traveling to/from Newark Penn Station.
If you are looking for car or limo service for Newark Penn Station in New Jersey, please call Hamilton's Limo and Car Service at 862-520-7433 or complete our online request form.