Car & Limo Service at JFK Airport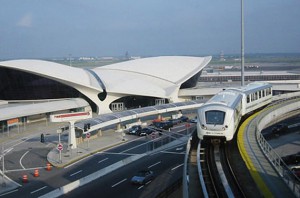 Good old JFK Airport. Located in Queens, NY and catering to over 56 million passengers, it's one of the busiest airport in the country. If you frequent this airport, you may be familiar with listening to New York City traffic reporter Bernie Wagenblast for airport information or traffic concerns for drivers leaving JFK if you tune into the 1630 or 1700 AM stations. You may also wish, every time you have to travel here, that you could just avoid all the traffic problems and let someone else drive you to and from the airport whenever you needed. Wouldn't it be nice to have a personal chauffeur to take you from New Jersey to JFK, or vice versa? Well, with a phone call to Hamiton's Limo and Car Service, it's easier and more affordable than you think to get professional car and limo service at JFK Airport.
Our NYC car company has been helping locals and visitors in New York get where they need to go in luxurious style since 1996. With a crew of carefully selected and highly-respected professional chauffeurs and a fleet of beautiful, well-kept luxury sedans, SUVs, and limos available, it's no wonder why more and more people turn to us for car and limo service when they're going to or from JFK Airport.
JFK Airport Limo Services
Have a special event planned? Are you getting married in NYC and plan on leaving from JFK Airport to get to your honeymoon destination? Why not make your day that much more memorable by arriving in a limo? Whether if you are traveling from our area in New Jersey to the airport, our JFK Airport limo service is the perfect addition to any special occasion. We have a stylish fleet of limousines for you to choose from, and you can rest assured your driver will be nothing short of stellar. Safety, punctuality, and quality service is what we strive for with every reservation. You are sure to be satisfied with our limo service in NYC.
Our car and limo services for JFK Airport travelers feature:
Flat Rate Pricing
No Surprise Charges or Fees
On Time Arrivals
Personalized Service
Luxury & Comfort
Expert Chauffeurs
To learn more about our services or affordable pricing, call our NYC car company today. You can also easily get a rate quote or make a reservation by filling out our online form.
JFK Airport Car Company
Leave the stress behind and let our drivers take care of your transportation needs. Whether you need to go to JFK or away from it, our professionals can take you anywhere in the New York City area. Our JFK airport car service is available 24 hours a day, 7 days a week, 365 days a year. So whenever you want someone else to drive you, all you have to do is call Hamilton's Car and Limo Service. We'll be happy to pick you up whenever you need JFK Airport car service.

John F. Kennedy International Airport (JFK)
If you are looking for car or limo service for JFK Airport (JFK), please call Hamilton's Limo and Car Service at 862-520-7433 or complete our online request form.