About Your NYC & NJ Car Company: Hamilton's Limo and Car Service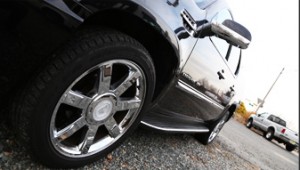 We are Always There at Your Service. Established in 1996, Hamilton's Limo and Car Service has earned a stellar reputation for being a reliable NJ car company offering car and limo services throughout New Jersey and the New York City area. We have a team of professional and experienced drivers who have been carefully selected to ensure your trip goes as smoothly as possible. Due to the small size of our private car service we are able to offer personal and reliable chauffeuring services, leaving you without the fear of wondering whether your driver will show up.
Our professional drivers are qualified to offer a most reliable, punctual, courteous, and friendly service to all our valued car service customers. Many of our drivers are also professional firefighters and EMT's and drive emergency vehicles on a daily basis. So you can rest assured you are in safe hands when you call on Hamilton's Limo and Car Service for any transportation needs you may have in the NJ and NYC areas.
Licensed Professional Car Company in NJ & NYC
Hamilton's Limo and Car Service holds all permits and licenses necessary to the operation of a "public" transportation company. Our NYC and NJ car company is properly bonded and insured to protect the vehicles and its passengers at all times. You can rest assured you'll always have a safe, on-time ride with our team of professional chauffeurs in NJ and NYC that are local and familiar with the area you are located in and travelling to.
Why Choose Us


Chauffers

Not Drivers

At Hamilton's Limo and Car Service, we offer our clients chauffeurs, not everyday drivers. Our team of professionals are carefully selected, screened, and trained to provide our clients with the highest in quality service. When you hire limo service in NJ or the NYC area, you expect professional service and a luxurious experience, right? Well, you can rest assured that's exactly what you'll get from the professionals at our NJ car company. You can also take comfort in the fact that the professional we send to take care of your transportation needs will be local to the area. They know the area and traffic patterns, ensuring you'll have a safe trip and on time arrival to your destination.

Transparent

Prices

When you choose Hamilton's Limo and Car Service for your transportation needs, you don't have to worry about the rate going up on you suddenly. Our pricing is very transparent, and you'll know the cost upfront. Our pricing includes all taxes, tolls, and gratuity, so you won't get a quote for one price only to find out at the end of your trip it is much higher than you expected. We offer you the peace of mind that you'll have no surprises when it comes to the cost of our car and limo services. That means no additional fuel charges. No surcharge for extra passengers. NO HIDDEN FEES. Just a simple, flat rate.

On Time

Every Time

Our NJ car service professionals understand that when you hire a professional for transportation, you expect to arrive at your destination on time. That's why we ensure our vehicles are equipped with the latest technology and GPS to ensure we are able to get you to your destination quickly and safely. You won't have to worry about our drivers showing up late to pick you up because they were busy with the previous customer, either. We always ensure adequate time between reservations, and work with your schedule. You will always arrive on time when you elect to hire a professional chauffeur from Hamilton's Limo and Car Service for your transportation needs in and around NJ and NYC.
Vehicles & Services We Provide in New Jersey & New York
If you have questions about or problems with your customer login, please call Hamilton's Limo and Car Service at 862-520-7433 or complete our online request form.