Car & Limo Service for Newark Airport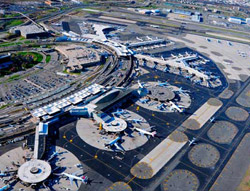 Are you looking for a reliable Newark Airport limo service or a professional driver to get you to/from EWR? You've come to the right place! Since 1996, Hamilton's Limo and Car Service has been providing professional car and limo service to and from Newark Airport (EWR). Family owned and operated, our car and limo service company is proud to offer quality, on-time, dependable, luxury transportation services for anyone looking to ride in comfort and style to or from Newark Airport.
Our car and limo services for Newark Airport travelers are available 24 hours a day, 7 days a week, 365 days a year. Our commitment is to provide the ultimate transportation experience and make sure a new client becomes a permanent one!
If your arrival or departure destination is EWR, you'll be glad you choose Hamilton's Limo and Car Service for your transportation needs. From our flat rate pricing to our courteous, professional drivers, it is easy to see why we have become one of the leading providers of car and limo services at Newark Airport and the surrounding areas of New Jersey.
Newark Airport Limo Services
Make a reservation now, easily, by calling us or filling out our online form. Our low flat rates, professional chauffeurs, and on-time services makes us one of the best for Newark Airport limo services. We cater to large groups of people, businessmen, co-workers, families, and anyone in the area.
If you need a limo to get you to, from, or around Newark Liberty Internation Airport in New Jersey, call the professionals at Hamilton's Limo and Car Service to make a reservation. Our drivers are local, always professional, and will ensure you get to your destination on time. Experience luxury and first class service on a budget – check out our great rate quotes today!
Newark Airport Car Company
Were you aware that Newark Airport was the first major airport in the U.S.? Around since 1928, this airport has seen some traffic. In fact, it was the busiest airport in the world before LaGuardia opened up. With over 37 million passengers annually, it's no wonder this place seems so busy – and stressful for travelers. Wouldn't you like to take some of the stress out of arriving at or leaving the airport? With a reservation for professional Newark Airport car service from Hamilton's Limo and Car Service, you can. We'll pick you up in one of our luxury SUVs or sedans, like our classy Bentley Spur – your choice. We'll treat you to your own personal chauffeur, too. Travelling by car doesn't get much better than this.
Let us know where you are headed, whether you need transportation to Newark Airport or away from it. We can take you to virtually any destination in New Jersey. We also have the some of the best, most experienced chauffeurs and licensed drivers around EWR, each of them carefully selected and heavily trained. Our drivers are qualified to offer a most reliable, punctual, courteous and friendly service to all our valued customers.

If you are looking for car or limo service for Newark Airport (EWR), please call Hamilton's Limo and Car Service at 862-520-7433 or complete our online request form.